The Shire Archery Store:
The Shire Archery store is exclusively online at the moment, we stock a wide and ever increasing range for traditional archery including bows, personal equipment, targets, materials and archery related gift items – all from leading international brands or independent Crafts people. We also make arrows in a wide range of types & styles, in any quantity- for target, field archery & 3D, museums, collectors, and re-enactment. If there is something you would like pre-order, see us stock or have any suggestions on how we can improve our service we would be interested to know your ideas and to see if we can put them into action.
We have no plans to move from the local area and are looking into a suitable physical space for our archery store to bridge the gap in welcoming customers to our work space, combined with the ease of ordering over the phone or online followed by pick-up at your convenience. This location is very well connected by road being just off the M1 junctions 29a – 31. Nottingham, Derby & Leeds, along with their conurbations and neighboring towns can all be reached in under an hours drive, along with many more places given another 15-20 minutes including Lincoln,York and some of the coastal towns.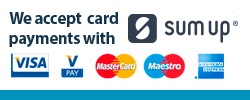 Availability Times:
Monday 9:30 am – 18:00 pm
Tuesday 9:30 am – 18:00 pm
Wednesday 9:30 am – 18:00 pm
Thursday 9:30 am – 18:00 pm
Friday 9:30 am – 19:00 pm
Saturday 9:30 am – 19:00 pm
Sunday 9:30 am – 12.30 pm
Beautiful locations well served:
Nearby to our location are The Dukeries of Sherwood, the City of Sheffield and the bustling market town of Chesterfield –  home of the 'Crooked Spire'. Within this roughly 15 mile radius we are blessed with miles & miles of countryside and several small towns. A short drive will see you into the beautiful Derbyshire Dales, the Sherwood Forest Nature Reserve or the 555 square miles of the Peak District National Park.